Israeli prime minister says Israel is prepared for 'significant' widening of Gaza operation as bombardment enters fifth day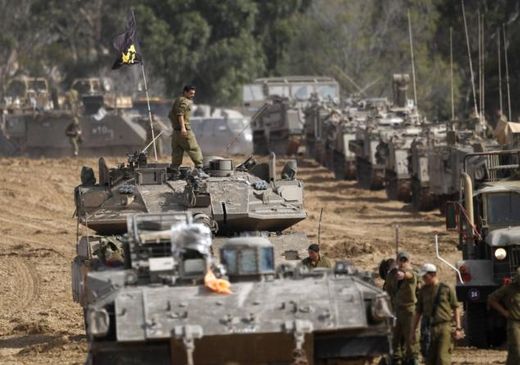 The Israeli prime minister,
Binyamin Netanyahu
, has said it is prepared for a "significant" widening of its
Gaza
offensive as the bombardment entered its fifth day.
The Palestinian death toll since the conflict began on Wednesday topped 50 after a night of sustained bombing that killed seven civilians, including five children, according to a Gaza health official. Two children died and 12 people were injured when two houses were hit in northern Gaza.
Shells fired from Israeli gunboats off the coast pummelled Gaza for an hour in the middle of the night, causing massive explosions, and six people were injured when two Israeli war planes
hit media buildings
in Gaza City.
Netanyahu told the Israeli cabinet in remarks broadcast on Sunday: "We are exacting a heavy price from Hamas and the terrorist organisations and the
Israel
Defence Forces are prepared for a significant expansion of the operation."