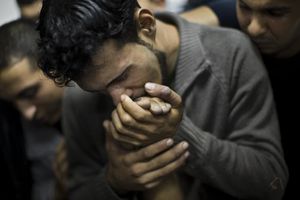 So what was it all for? The 11-month old Palestinian baby killed with its entire family by an Israeli pilot, the 150-odd Palestinian dead - two thirds of them civilians - the six Israeli dead, 1,500 air raids on Gaza, 1,500 rockets on Israel. What fearful symmetry! But was all this done - and let us forget the billions of dollars of weapons spent by Israel - for a ceasefire? Not a peace treaty, not even a treaty, just a truce. Before the next Gaza war.
Cynics abound in Israel, and not without reason. "End of a military operation, beginning of an election campaign," ran a headline in The Jerusalem Post yesterday - albeit in a newspaper that has given its usual support to war in Gaza.
Hardly Churchillian
But surely Benjamin Netanyahu's campaign for the January elections began the moment he ordered the
assassination of Ahmed al-Jabari
, the Hamas leader, just over a week ago. Indeed, the bombing of Gaza moved seamlessly into the Netanyahu election project: if Israelis want security, they know who to vote for.
Or do they? It was evident after the ceasefire began on Wednesday night that Mr Netanyahu was worried.