A bomb targeting Shiite Muslims in a busy market in Pakistan's insurgency-hit southwest killed 79 people including women and children and wounded 180 others.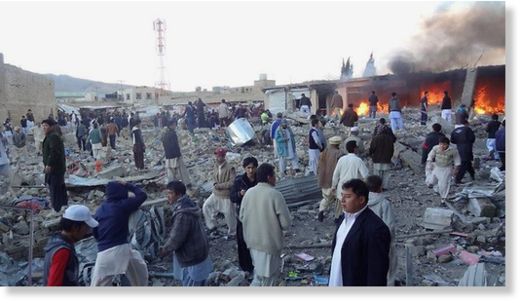 The powerful bomb in a water tanker ripped through a packed bazaar in Hazara town, an area dominated by Shiites on the outskirts of Quetta - capital of oil and gas rich Baluchistan province - at around 6pm local time yesterday.
"We have recovered more dead bodies from the debris of a collapsed building. The death toll has now risen to 79,'' senior Quetta police official Wazir Khan Nasir said.
Quetta city police chief Zubair Mehmood said the water tanker, which officials said was packed with some 800 kilograms of explosives, was placed near a pillar of a two-storey building, which collapsed in the blast.
"We fear that several people have been trapped inside. Rescue work is ongoing but I see very little chance of their survival,'' Mr Mehmood said.
Mr Nasir said the bombing ''was a sectarian attack, the Shiite community was the target''.
A spokesman for the banned Sunni Muslim extremist group Lashkar-e-Jhangvi claimed responsibility for the bombing.