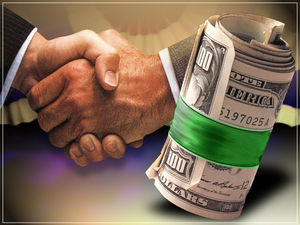 Learn which "civilian" companies are making big bucks on today's wars.
Chances are, if you've ever sent a package overnight, bought a PC or a can of soda, you've paid your hard-earned money to a major Pentagon contractor. While large defense corporations that make fighter jets and armored vehicles garner the most attention, tens of thousands of "civilian" companies, from multi-national corporations hawking
toothpaste and shampoo
to
big oil behemoths
and even
local restaurants
scattered across the United States, all supply the Pentagon with the necessities used to carry on day-to-day operations and wage America's wars. And they've made a killing doing it since 9/11.
In 2001, the massive arms dealers Lockheed Martin, Boeing and Northrop Grumman ranked one, two and five among Department of Defense contractors, raking in $14.7 billion, $13.3 billion and $5.2 billion, respectively, in contracts. Last year, Lockheed's contract dollars were almost double their pre-9/11 level, clocking in at $28 billion, while Boeing's had jumped to almost $19 billion and Northrop Grumman, still in the five spot, had more than doubled its 2001 take, with $12.8 billion in contracts.
America's recent wars have obviously been good to these companies. On September 10, 2001, Lockheed's
share price
was $38.32. Today, it tops $70 per share. In 2001, the company's net sales reached
$24 billion
. Last year, they were almost
$46 billion
. Likewise, Northrop Grumman's net income has more than quadrupled in the last decade, according to the investment analysis website,
Seeking Alpha
. Still, these corporations are just a fraction of the story when it comes to the massive sums of money made by the military contractors since September 11, 2001.