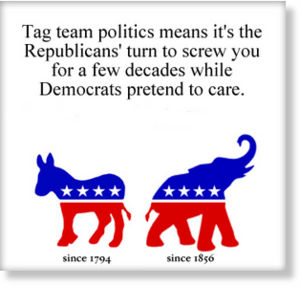 In his historical novel,
The Leopard
, Giuseppe di Lampedusa writes that things have to change in order to remain the same. That is what happened in the US congressional elections on November 2.
Jobs off-shoring, which began on a large scale with the collapse of the Soviet Union, has merged the Democrats and Republicans into one party with two names. The Soviet collapse changed attitudes in socialist India and communist China and opened those countries, with their large excess supplies of labor, to Western capital.
Pushed by Wall Street and Wal-Mart, American manufacturers moved production for US markets offshore to boost profits and shareholder earnings by utilizing cheap labor. The decline of the US manufacturing work force reduced the political power of unions and the ability of unions to finance the Democratic Party. The end result was to make the Democrats dependent on the same sources of financing as Republicans.