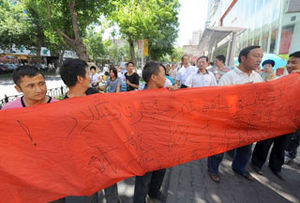 Chinese President Hu Jintao and nine top leaders from the ruling Communist Party say they will 'severely punish' those involved in the Xinjiang unrest.
"The planners of the incident, the organizers, key members, and the serious violent criminals must be severely punished according to law," Xinhua news agency quoted the top leaders as saying at a meeting on Thursday.
The summit commenced -- upon Hu's order -- in the wake of the unrest in Muslim majority Xinjiang, which was identified as "the most important and pressing task."