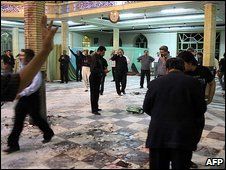 The Jundullah terror group has claimed responsibility for a terrorist attack that killed at least 25 people in southeastern of Iran.
The group's spokesman Abdolrauf Rigi contacted the Pakistan-based office of the al-Arabiya television network to report a bombing in a mosque in the Sistan-Balouchestan province. The group reportedly claimed responsibility for the attack.
A bomb blast rocked a mosque in the city of Zahedan on Thursday night as mourners participated in a ceremony marking the death of the daughter of the prophet of Islam.
The bloody attack injured 125 others.
A second explosive was also defused at the mosque within minutes of the explosion.