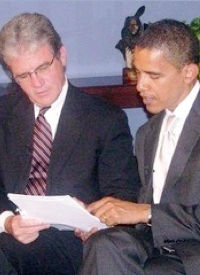 On Monday President Obama
received
an award for transparency, which ironically was given to him during a closed, unannounced meeting. Bestowed upon the President from a group of transparency advocates, the ceremony took place in secret, even though - as of two weeks ago - it was supposed to be open to the press.
According to
Politico
, the meeting was "inexplicably postponed" and rescheduled without notice for Monday "without disclosing the meeting on [the President's] public schedule or letting photographers or print reporters into the room."
Those present at the ceremony, which took place in the Oval Office, included Gary Bass of OMB Watch, Tom Blanton of the National Security Archive, Danielle Brian of the Project on Government Oversight, Lucy Dalgish of the Reporters Committee for Freedom of the Press, and Patrice McDermott of OpenTheGovernment.org.
Gary Bass commented:
Our understanding going into the meeting was that it would have a pool photographer and a print reporter, and it turned out to be a private meeting." He adds, "He was so on point, so on target in the conversation with us, it is baffling why he would not want that message to be more broadly heard by reporters and the public interest community and the public generally.