Editor's note: This Sott.net editorial is being 'flash-backed' as a result of the recent Portland 'terror' scare. Details of that incident can be read on Sott.net here. This article shows in abundant detail the efforts that the US government and associated 'Intel' agencies have made over the years to manufacture 'home-grown terrorism'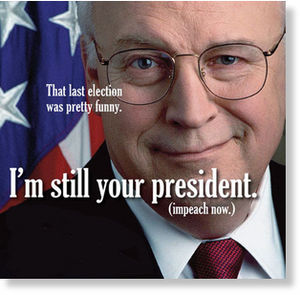 Like most normal people, by the 100th day of the Obama administration I had hoped that Bush-era freaks like Dick Cheney would have respectfully withdrawn from public view and ultimately (and ideally) ended up parked in an old people's home where staff would joyfully beat them twice a day. But alas, like a recurring nightmare, Mr. Cheney at least seems unwilling to spare us his disturbing presence just yet.
Reading his recent rants on Obama's (now reversed) plans to release more prisoner abuse photos and roll back illegal wiretapping and close Gitmo etc, we get the impression that behind Cheney's anger lies fear (I'm generously presuming that there actually is something more to old snarly face than pure primal anger). But what could provoke fear in man whose idea of private conflict resolution is to try and blow your face off with his shotgun?
While Dick is undoubtedly frustrated at the thought of an end to the vicarious pleasure he surely derives from his personal (if indirect) involvement in the water-boarding, sodomising or plain ol'
beating to death of innocent people
, not to mention an end to his personal assassination squad, the many degrees of separation between an order from the office of the VP and the 'enhanced interrogation' room where the 'fun' takes place ensure that Cheney need not fear any jail time for his 'enhanced misdemeanors' (especially under the increasingly pusillanimous Obama aka '
Judas Goat
').