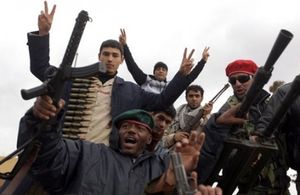 US intelligence operatives had been on the battlefields in Libya before President Barack Obama signed an order allowing covert assistance to the opposition forces, officials say.
With the battles in Libya taking on the theme of a shadow intelligence war, two US officials have stated that American Special Forces and CIA operational teams were dispatched to the conflict-torn Libya to make contacts with anti-regime forces and to organize and train them, Reuters reported on Thursday.
"They're trying to sort out who could be turned into a military unit and who couldn't," said Bob Baer, a former CIA operative in the Middle East, adding that the operatives may have entered Libya through neighboring Egypt and are lightly equipped.
Another US government source also stated that the Obama administration is mulling over plans under which US Special Forces with experience in the Afghan war would collaborate with CIA officers in efforts to provide training to Libyan opposition fighters.