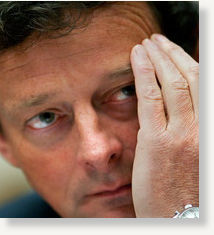 Federal prosecutors are considering whether to pursue manslaughter charges against BP Plc (BP/) managers for decisions made before the Gulf of Mexico oil well explosion last year that killed 11 workers and caused the biggest offshore spill in U.S. history, according to three people familiar with the matter.
U.S. investigators also are examining statements made by leaders of the companies involved in the spill -- including former BP Chief Executive Officer Tony Hayward -- during congressional hearings last year to determine whether their testimony was at odds with what they knew, one of the people said. All three spoke on condition they not be named because they weren't authorized to discuss the case publicly.
Charging individuals would be significant to environmental- safety cases because it might change behavior, said Jane Barrett, a law professor at the University of Maryland.