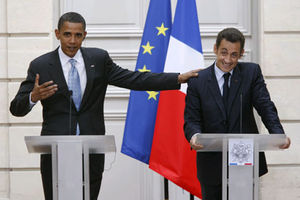 French helicopter gunships launched rocket attacks on President Laurent Gbagbo's palace in Ivory Coast's main city Abidjan on Friday night, according to witnesses.
The strikes came hours after mortar rounds and a rocket were fired at the residence of the French ambassador in Abidjan by pro-Gbagbo forces.
A spokesman for Mr Gbagbo denied that the French ambassador's residence had been attacked.
"The Ivory Coast government believes France is looking for a pretext to resume bombings on the presidential palace," Toussaint Alain, a representative for Mr Gbagbo, said in Paris.
"If there are attacks on the embassy, it's not Gbagbo's forces. Nobody has been attacked."
The UN peacekeeping head said Mr Gbagbo's forces had regained ground in Abidjan and fully control the Plateau and Cocody areas.
Alain Le Roy said the Gbagbo camp had used a lull on Tuesday for peace talks as a "trick" to reinforce their positions and that they still had heavy weapons.