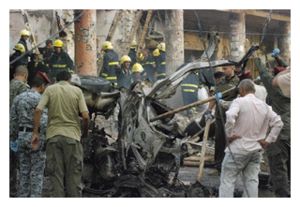 A pair of car bombs blasted through security checkpoints ringing the Iraqi holy city of Karbala Thursday and killed at least 51 people, most of whom were Shiite pilgrims headed to observe yearly religious rituals.
It was the latest in a wave of attacks in recent days, as insurgents test Iraqi security forces ahead of the planned U.S. withdrawal at the end of the year.
There was no immediate claim of responsibility, but the bombings bore the hallmark of al-Qaida and other Sunni-dominated extremist groups that frequently target Shiite pilgrimages in hopes of re-igniting sectarian violence that brought Iraq to the brink of civil war just a few years ago.
Authorities estimated as many as 183 people were wounded in the near-simultaneous blasts set off by suicide bombers driving cars packed with explosives.