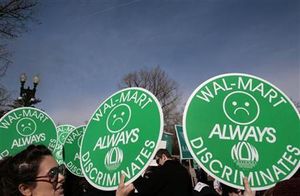 The U.S. Supreme Court threw out on Monday a massive class-action sex-discrimination lawsuit against Wal-Mart Stores Inc, the biggest ever such case, in a major victory for the world's largest retailer and for big business in general.
The justices unanimously ruled that more than 1 million female employees nationwide could not proceed together in the lawsuit seeking billions of dollars and accusing Wal-Mart of paying women less and giving them fewer promotions.
The Supreme Court agreed with Wal-Mart, the largest private U.S. employer, that the class-action certification violated federal rules for such lawsuits.
It accepted Wal-Mart's argument that the female employees in different jobs at 3,400 different stores nationwide and with different supervisors do not have enough in common to be lumped together in a single class-action lawsuit.
The ruling was cheered by the U.S. Chamber of Commerce business group as the most important class action case in more than a decade but denounced by women's groups.
It represented a major victory for Wal-Mart, which also has faced legal battles including an attempt to unionize and to block the giant retailer from opening stores in New York and other places.