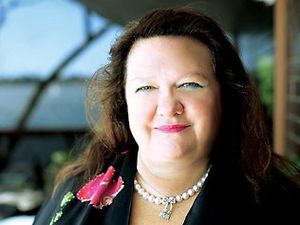 You probably haven't heard of Gina Rinehart - the 57-year-old Australian widow - but you'll know the people her wealth is set to eclipse.
Bill Gates, Warren Buffet and Carlos Sim are currently rated as the
richest people alive
by
Forbes
magazine, while Lakshmi Mittal is the
UK's richest person
and sixth-richest overall.
But Rinehart is about to leapfrog them all to the top of the list - and become the first woman to ever hold the number one spot.
Where her money's come from
Rinehart was a recently widowed mother of four in her 30s when she inherited her father's debt-laden mining firm. But she wasn't new to the business world.
She had been groomed to inherit the family firm from the age of 12 and, since taking over, has quietly gone about making it one of the world's biggest operations.