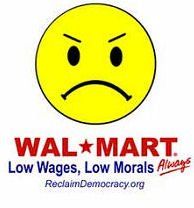 According to several aggrieved women who filed a class-action lawsuit against Wal-Mart, the giant retailer's recent employment practices were not based on merit. Instead, those women say, Sam Walton's empire employed a crude form of Marxism.
Men were often paid more than women in the same jobs, according to legal documents, and women who complained were told that the men needed more money because they were expected to support their families. Or, as Karl Marx put it, "From each according to his ability, to each according to his needs."
It would no doubt have come as a surprise to the male managers who endorsed the higher-pay-for-heads-of-households theory that they shared a basic tenet of Marxism. After all, Wal-Mart's image rests solidly on down-home, all-American values with a Southern accent -- God, guns and cheap electronics.
Indeed, Wal-Mart's culture isn't foreign. Its anti-union activities are a commonplace.
Over the years, moreover, there have been countless American companies where women employees complained about discrimination -- where they received lower wages for the same work, where they were denied promotions despite stellar work histories, where they complained of sexist antics and crude, juvenile "jokes."
Wal-Mart is not only the world's biggest retailer, but it is also the nation's largest private employer. Its sales are heavily dependent on women, who determine a major portion of most household purchases. Most of Wal-Mart's hourly employees are women, but most of its salaried managers are men.
The retailer has not been judged innocent by the U.S. Supreme Court. Last week, instead, the court rejected the class-action filing, Dukes v. Wal-Mart, that might have allowed as many as 1.5 million current and former female employees to collect financial redress. A conservative majority let the retail empire off the hook because, as Justice Antonin Scalia put it, the plaintiffs "provide no convincing proof of a company-wide discriminatory pay and promotion policy."
I cannot imagine that any American company would have an official policy that supports discrimination. Instead,
Wal-Mart appears to have allowed individual managers at various levels to get away with rank sexism.
Unfortunately, many of the women who suffered at their hands would be hard-pressed to amass the resources to file individual lawsuits, so a class action was their best hope for justice.