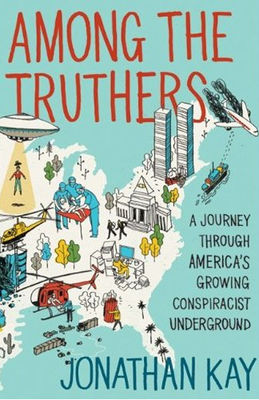 Among the Truthers: A Journey Through America's Growing Conspiracist Underground,
by Jonathan Kay.
2011.HarperCollins, New York. 340 pages.
"Those such as Kay who seek to delegitimize the 9/11 Truth Movement infer that one should accept official explanations however ludicrous, and that to go off as individuals searching for veracity indicates defective cognition. But conspiracy theories, like scientific theories, gain strength as attempts to disprove them fail. The effort to stop the 9/11Truth Movement has been a bust. The Movement continues to attract well-informed critical thinkers, and Kay's book does nothing to slow the momentum. And while all of this is good, there is also threat implied, because those who attack the 9/11 Truth Movement appear to link to politically powerful elements known to be ruthless."
This book should be understood as part of a larger effort that encompasses Phil Mole's 2006
9/11 Conspiracy Theories
published in Michael Shermer's Skeptic Magazine; David Aaronovitch's 2010 book
Voodoo Histories
; and the 2008 essay by Harvard lawyers Cass Sunstein and Adrian Vermeule, "Conspiracy Theories", in which, menacingly, Sunstein and Vermeule advocate for "cognitive infiltration" of citizen groups by governmental agents. What unites all of these, despite any pretense of objective academic interest in conspiracism
per se,
appears to be an underlying dread of a specific species that continues to grow globally and within all segments of society: 9/11.
Kay, a Canadian, is editor of the conservative
National Post
newspaper and a regular contributor to Murdoch's
New York Post
and to
Commentary Magazine
, a neoconservative standard. He coauthored a 2008 book,
The Volunteer
, an account of a Canadian working for Mossad, the Israeli Intelligence Service. He is a fellow at the Foundation for the Defense of Democracies, a think tank whose leadership includes Newt Gingrich, Steve Forbes, Eric Cantor, William Kristol, Joe Lieberman, Charles Krauthammer, Gary Bauer and former directors of both the CIA and the FBI. "FDD" is a melding of hard right conservatism, the security state and family values fundamentalism, with Richard Perle adding an interesting Pentagon
connection
.