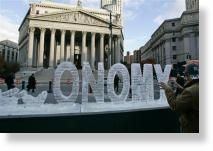 While the world slithers into the black hole of economic collapse, those that head the institutions that sit astride its nations and peoples met in Davos, Switzerland last week for the
World Economic Forum
. Attendance was, as always, by invitation only and that included the press so we can be sure that whatever came out of Davos 'on-the-record' was intended to. In case you doubt the ability of conference organizers to manage the information flow consider two things; there are numerous "off-the-record" briefings throughout the conference the details of which we never hear, and all those attending, including journalists, want to be invited back for they are members of the Inner Circle and rely on their membership for their place in life.
We were not invited which is somewhat galling given that in October 2005 (
The Economic Collapse: An Insider's View
) and then again in August 2006 (
Signs of the Economic Apocalypse - Update
) sott.net (or signs-of-the-times.org as it was then) was hosting podcasts in which the forthcoming collapse of the free market capitalist system was discussed in detail as well as our consistent warnings over the last five years. It is even more galling to find that Nouriel Roubini is being
treated as some sort of god
for saying exactly the same thing as sott.net after we said it.
The upside of not being invited is that you, dear reader, can rest assured of our continued independence of both mind and spirit.