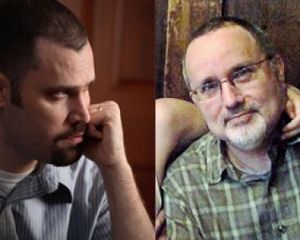 Last year, I wrote about
corporate psychopaths
and the "five-phase" process they use to maneuver their way into positions of influence and affluence. Heck, I might as well add "effluents" to that list. After all, an interaction with a psychopath will leave the same taste in your mouth and may just end up killing you. Plus, it rhymes. Take the example of Kevin Morrissey, managing editor for the
Virginia Quarterly Review
, who was
driven to suicide
after repeated harassment and belittlement by his boss, Ted Genoways.
Morrissey's plight is a perennial one, and it gets right to the heart of ponerology. Criminal psychopaths get drunk, get in fights, lead lives of serial criminality, and when they kill people, they tend to use weapons, or any convenient object that happens to be laying around. Successful psychopaths, on the other hand, lead relatively "normal" lives. They don't break the law (at least overtly) and can come across as ideal and highly successful citizens. But whether it's after years of pushing boundaries, tearing down a person's will to live with soul-eating mind-torture, or the "collateral damage" caused by the toxic chemicals their corporations release simply because they just don't care and can make a quick buck, successful psychopaths kill too. The main difference is, they kill a lot more, and they get away with it.
But it's not just the corporate bigwigs and
Tucker Max
-esque "boyfriends". As we've seen, a look at the machinations of political groups like the Soviets and the Nazis with the same perspective is quite revealing. Psychopaths gaining access and prominence in political groups use the same five-phase process as the those studied by Babiak. And not only does the five-phase process occur within the cutthroat dynamics of "power politics", it also occurs as the group as a whole strives for and achieves political domination. Or, to add a little color to counter that somewhat academic exposition: scum rises to the top. It's how it gets there that is interesting, and those early stages are the most elusive and poorly studied. Until Lobaczewski wrote his book, that is.