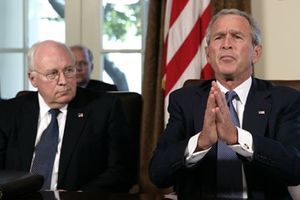 Former IAEA chief Mohamed ElBaradei says former US President George W. Bush and his administration's officials should be put on trial in the "International Criminal Court" (ICC) for waging war on Iraq.
ElBaradei in a new memoir,
The Age of Deception
says that the Bush administration officials should face international criminal investigation for the "shame of a needless war" in Iraq.
He accused then-President George Bush and his administration officials of "grotesque distortion" in the run-up to the 2003 invasion of Iraq with an excuse to disarm Iraq, to free its people and to defend the world from grave danger of weapons of mass destruction (WMD).
The so-called hunt for WMD in Iraq, however, yielded no results.