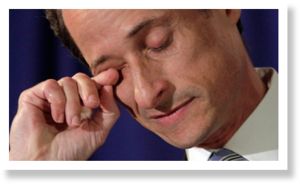 The Politics of Narcissism
In a year, will you remember, let alone care about, the Weiner roast? Unless something truly scandalous is further revealed (and you never know with politicians trying to hide something), New York Congressman Anthony Weiner will be campaigning for reelection.
In 2012, the incumbent will likely be glad-handing his constituency at a neighborhood supermarket or school. Each voter will pat the congressman on the back, ask discreetly, "How could you have done it?," and Weiner will shrug his shoulders in bewilderment, a chastened pol. His moment in the sex-scandal spotlight finally over.
After weeks of outright lying, stonewalling and dimwitted obfuscation, the good congressman finally coped to his illicit Twitter exchanges and more. He admitted that, over the past few years, he sent a series of "compromising" e-mails and photos to women he met online. He insists that he never had a sexual liaison with any of the women; none of them have contradicted his claim. He seems to have gotten off on risqué flirting.
And after weeks of media hounding, the congressman finally opted for the classic sinner's safety net. He's entered a rehab program to deal with his "addiction." In all likelihood, his two-week breather from the media spotlight will be sufficient for his sad story to be replaced by yet another media distraction, whether scandal, natural disaster or crime report.
(It remains to be seen whether Mrs. Weiner will follow in the well-worn footsteps of her mentor, Hillary Clinton, and stick with her man or join the late-Elizabeth Edwards or former SC Governor Mark Sanford's wife, Jenny Sanford, and say enough is enough.)