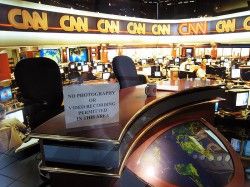 As the mainstream media continues to be obsessed with Anthony Weiner and his bizarre adventures on Twitter, much more serious events are happening around the world that are getting very little attention. In America today, if the mainstream media does not cover something it is almost as if it never happened. Right now, the worst nuclear disaster in human history continues to unfold in Japan , U.S. nuclear facilities are being threatened by flood waters, the U.S. military is bombing Yemen, gigantic cracks in the earth are appearing all over the globe and the largest wildfire in Arizona history is causing immense devastation. But Anthony Weiner, Bristol Palin and Miss USA are what the mainstream media want to tell us about and most Americans are buying it.
In times like these, it is more important than ever to think for ourselves. The corporate-owned mainstream media is not interested in looking out for us. Rather, they are going to tell us whatever fits with the agenda that their owners are pushing.
That is why more Americans than ever are turning to the alternative media. Americans are hungry for the truth, and they know that the amount of truth that they get from the mainstream media continues to decline.