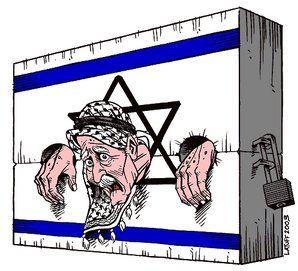 WikiLeaks documents expose Israeli racism, hypocrisy and double standards
The issue of Al-Aqsa [Mosque] will remain in the public conscience and the truth about Israeli transgressions will come to light with or without WikiLeaks. At long last WikiLeaks documents have focused on something other than the defunct "peace process" and Israel's war against Hamas. The latest release of diplomatic cables highlights Israeli concerns about the Islamic movement in the country, its leadership and its influence among Israel's 1.5 million Palestinian citizens. The picture that emerges is one of crass racism, hypocrisy and double standards.
While the overt views of Israeli officials and their American allies are hardly well-kept secrets, the cables shed additional light on their intent and attitudes. According to the record of a meeting with the US ambassador on 31 January 2006, for example, Israeli foreign minister Avigdor Lieberman advocated the adoption of the Cyprus model to ensure Israel's security and Jewish identity. Thus, just as Greeks and Turks on the island were separated, so too Israeli Jews and Israeli Arabs must be kept apart.
Despite the obvious draconian nature of Lieberman's proposal, it did not evoke a word of protest or any sense of apprehension from the ambassador.
There was no reference to what the views of the people affected might be or, indeed, that they would even be consulted. The manner in which one-fifth of Israel's population were dismissed as irrelevant suggests that they are regarded as pawns on a political chess board; so much for America and its alleged commitment to democracy around the globe.