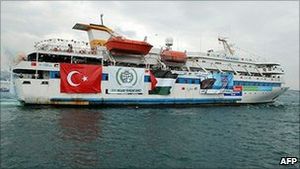 Turkish Prime Minister Recep Tayyip Erdogan has said his country will in future escort aid ships travelling to the Gaza Strip.
Speaking to Al Jazeera, Mr Erdogan also said
Turkey had taken steps to prevent Israel unilaterally exploiting natural resources in the eastern Mediterranean
.
He spoke amid a growing row over Israel's refusal to apologise for a deadly raid on an aid ship last year.
Turkey has already cut military ties and expelled Israel's ambassador.
It has also said it will challenge Israel's blockade of Gaza at the International Court of Justice (ICJ).