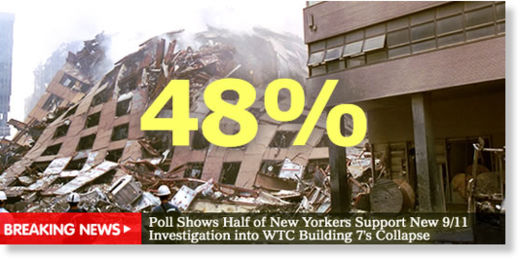 As the 10th anniversary of the 9/11 attacks approaches quickly, a new Siena poll shows that half of New Yorkers today are in support of a new probe into the collapse of World Trade Center Building 7.
The poll shows that 1 in 3 New Yorkers were unaware of Building 7′s collapse and, despite the importance of the events of that day, only 25% have ever seen video footage of Building 7 collapsing at free fall. Only 14% could identify the name of the skyscraper.
Moreover, the poll shows that only 49% who were aware of Building 7′s collapse believe fires brought it down. 24% believe it was a controlled demolition, and 23% are unsure.