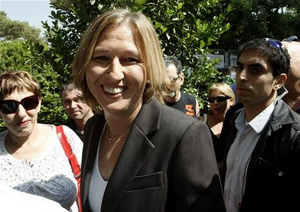 ©Reuters
Foreign Minister Tzipi Livni was set to be Israel's next prime minister after a comfortable victory on Wednesday in a party leadership election to choose a replacement for Ehud Olmert.
"The good guys won," the former corporate lawyer and one-time Mossad intelligence agent told supporters within the ruling centrist Kadima party after exit polls gave her a clear margin over retired general Shaul Mofaz, the transport minister.
Palestinian peace negotiators -- and possibly the sponsors of the peace process in Washington -- were among those applauding as official results began to confirm a win for Livni, who has led talks with the Palestinians this year.