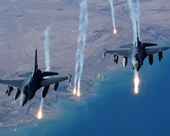 Libya has big plans for its post-war future, hoping to be reborn as the next Dubai and having all the necessary sun and beaches, with oil reserves aplenty. British companies are likely to come out on top of those lining up for a piece of the action.
It was France and the UK who initially led the effort to topple Colonel Muammar Gaddafi. Britain, together with France, sent their navy and fighter jets to establish a sea blockade and assault military targets on Libyan territory.
Now the National Transitional Council (NTC) of Libya says its friends will be rewarded - and these are not just words.