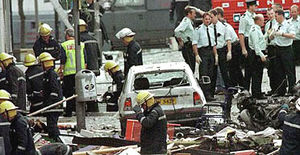 The 1998 bombing of Omagh, Northern Ireland, was the largest single terror attack in the UK at the time, killing 29 people and injuring over 200. The men convicted of the attack in 2009 are appealing the case, citing a dodgy MI5 agent.
As reported today by
The Guardian
:
An MI5 agent's credibility is at the centre of an appeal by four republicans accused of being behind the Omagh bomb atrocity, a court heard today.

David Rupert infiltrated the Real IRA and provided evidence against the four men, who are appealing against a historic civil case judgment that held them liable for the massacre.

His intelligence for MI5 was used in the civil action against the Real IRA founder Michael McKevitt and three other men - Liam Campbell, Colm Murphy and Seamus Daly.

They were found to be responsible for the terrorist attack by a judge in a landmark civil case brought by victims' families at Belfast high court in June 2009. The judge recommended that they pay £1.6m in compensation to the victims' families.

All four who were named in court as leading Real IRA activists have started their appeal against that judgment in the court of appeal in Belfast.