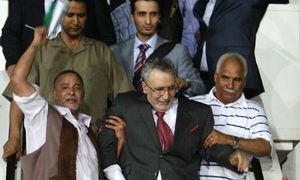 Two years ago Abdelbaset al-Megrahi was controversially released on the grounds he was about to die. But this shadowy figure has survived to become a pawn in the Libyan conflict. John Ashton, who has long believed in his innocence, describes the man behind the myth.
It's an anniversary that the Scottish justice minister, Kenny MacAskill, will have long dreaded. Two years ago tomorrow
MacAskill granted Abdelbaset al-Megrahi, AKA "the Lockerbie bomber", compassionate release from the life sentence he was serving for the murder of the 270 victims of the 1988 bombing
. MacAskill had been advised that terminal cancer was likely to end the Libyan's life within the following three months: he had, in short, been "sent home to die".
As Megrahi's recent appearance at a pro-Gaddafi rally reminded us
, he has not stuck to the script.
The anniversary presents sections of the media with another opportunity to splutter its outrage at MacAskill's decision, and to resurrect the theory that it was driven by backroom deals rather than medical evidence. More seriously, for many of the relatives of the Lockerbie dead it adds an appalling insult to their already grievous injury.
But Megrahi's survival, and the Lockerbie case in general, now has far wider significance. For western governments struggling to justify why Libya should be singled out for enforced regime change, the issue has become a godsend. In recent weeks both Barack Obama and
William Hague
have tried to boost wilting public support for the war by highlighting Gaddafi's responsibility for the 1988 attack.