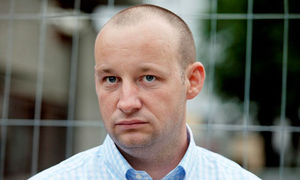 Names emerged from interviews with Breivik and English anti-Muslim blogger Paul Ray, say Norwegian police
Norwegian police say they are to question several British citizens in their search for potential accomplices of mass killer Anders Behring Breivik.
Officers in Oslo said the names of individuals and several far-right groups emerged from questioning of British anti-Muslim blogger Paul Ray as well as further interviews with Breivik.
Police press officer Roar Hanssen said: "We have some names and also some groups we are investigating. They came from Paul Ray, and also from Breivik and also from other things we have been investigating."
Breivik, 32, admitted killing 77 people last month when he detonated a truck bomb outside government offices in Oslo, and then went on a shooting spree at a youth camp at Utøya, 25 miles away.
He was questioned again on Wednesday and prosecutor Paal-Fredrik Hjort Kraby said officers focused on Breivik's manifesto, his alleged links to a group called the Knights Templar and potential ties to the UK.