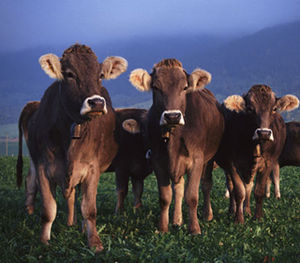 USDA fails to restrict GMO alfalfa plantings and protect organic farmers and consumers; did the White House "want to appease Monsanto?"
On Thursday, the United States Department of Agriculture (USDA) announced it would allow the unrestricted, nationwide planting of
genetically engineered alfalfa
, which is also known as GE,
GMO
, or Roundup Ready alfalfa. The decision to allow this genetically manipulated crop into the environment - and ultimately onto our plates in some form or another - flies in the face of what consumers say they want. A survey released late last year found that the majority of Americans don't want GMO ingredients in the food chain, and more than 90 percent believe GMO ingredients should be labeled, which currently is not required by law. (Organic farming bans the use of GMO seeds and the pesticides used on GMO crops.)
The announcement to allow farmers to plant GMO alfalfa anywhere - even right beside an organic field - came as something of a surprise to many observers. Though the approval seemed a foregone conclusion, the USDA seemed to be, for the first time, open to the idea of "coexistence" between GMO, conventional, and organic farmers. For instance, one of the proposed options involved keeping a five-mile buffer between GMO alfalfa and organic plantings. And while many scientists believe coexistence is impossible because cross-pollination threatens to contaminate organic crops with modified genes, it was still unprecedented for USDA to even consider organic farmers at the negotiating table. That gave some organic advocates hope.
Cross-contamination - transfer of genes from GMOs to other crops - is already occurring in annual Roundup Ready GMO soy and corn.