More than two months since former president Hosni Mubarak was forced from office after 30 years in power, local political figures and analysts warn of "counterrevolutionary elements" still working behind the scenes to thwart Egypt's ongoing transition to democracy.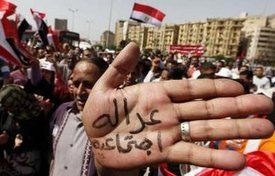 These elements have consistently worked to reverse the gains made by the Jan. 25 Revolution by sowing fear, chaos and fitna (discord) between different segments of society," Essam al-Arian, spokesman for Egypt's Muslim Brotherhood movement, told IPS.
In the first days of the 18-day uprising, the embattled Mubarak regime used its expansive state media machine to spread false news reports of murder and mayhem in hopes of terrorising the public and discrediting the revolution. It went so far at one point as to release convicted criminals from prison.