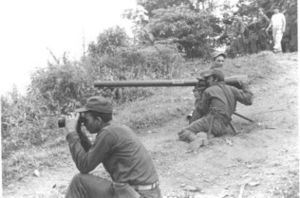 A once-secret CIA history of the Bay of Pigs invasion lays out in unvarnished detail how the American spy agency came to the rescue of and cut deals with authoritarian governments in Central America, largely to hide the U.S. role in organizing and controlling the hapless Cuban exile invasion force.
The report, in chronicling how American secret agents dealt with the '60s-era governments of Guatemala and Nicaragua, provides important evidence, in official U.S. government words, to the truth of the old adage that the most powerful people in Central American embassies were the CIA station chiefs.
Ambassadors step aside and allow the CIA to negotiate deals for covert paramilitary bases in a newly released portion of the CIA's "Official History of the Bay of Pigs Operation." CIA pilots and Cuban foot soldiers then help suppress a Guatemalan Army coup attempt that threatened their foothold in the country. Gen. Anastasio Somoza hits up the CIA for a $10 million payoff, development loans, as the price of letting the Americans launch the Cuban exile invasion from Nicaragua.
"What you're reading in this report shows again that in the
hypocritical name of democracy the United States and CIA were willing to prop up some of the most cut-throat dictatorships
," says researcher Peter Kornbluh of the National Security Archive at George Washington University. He sued the CIA for release of the Top Secret document that dissects one of the agency's greatest failures.