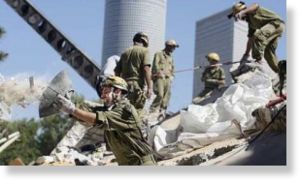 Home Front Command launches fifth major drill to prepare civilians in case of attack; sirens to sound across country on Wednesday, when citizens will be requested to retreat to nearby shelters.
The Israel Defense Forces began a nation-wide Home Front defense drill on Sunday, to prepare security forces for an array of possible attacks.
The exercise, codenamed Turning Point 5, includes a number of scenarios, including a strike on a power plant, missiles being fired at targets across the country and one of hackers breaching into key Israeli computer systems.