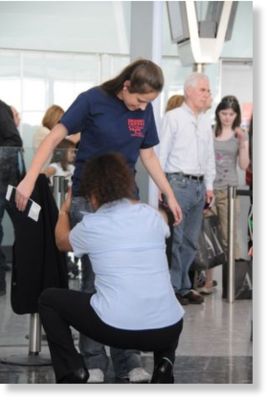 Think you could avoid the TSA's body scanners and pat-downs by taking Amtrak? Think again. Even your
daily commute
isn't safe from TSA screenings. And because the TSA is working with Immigration and Customs Enforcement (ICE) and Border Patrol, you may have your immigration status examined along with your "
junk
".
As part of the TSA's request for FY 2012 funding, TSA Administrator John Pistole
told Congress
last week that the TSA conducts 8,000 unannounced security screenings every year. These screenings, conducted with local law enforcement agencies as well as immigration, can be as simple as checking out cargo at a busy seaport. But more and more, they seem to involve giving airport-style pat-downs and screenings of unsuspecting passengers at bus terminals,
ferries
, and even
subways
.
These surprise visits are part of the TSA's VIPR program: Visible Intermodal Prevention and Response.
The VIPR program
first started doing searches in 2007, and has grown since then. Currently, the TSA only has 25 VIPR teams doing these impromptu searches: in 2012, it wants to get 12 more.