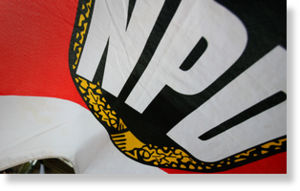 What does a Neo-Nazi look like? One's typical stereotype might be of a jackbooted skinhead. But increasing numbers of active right-wing extremists in Germany are actually women, experts say.
Although there are no definitive numbers, up to one-fifth of participants in the far-right scene are female, said Andrea Röpke, who recently released the book
Mädelsache!
(Girl Thing!) on the topic.
"You can assume that the proportion of women in the right-wing extremist scene is rising," said. "In Berlin and Brandenburg the proportion of women is very, very high."
Röpke said women were valued because they provide stability and a sense of calm to an often violent and virulently xenophobic scene. Often they play the role of organizing less threatening events such as football tournaments of children's parties.
In politics they often try to project a sense of reasonableness by concentrating on social or green issues.
"The women stabilize the scene in the background," she said. "They call themselves the 'community anchor.'"
But though women play a valuable role, it doesn't mean they seen as equal with men. In fact, the opposite is often true and women must hold their tongues in order to be accepted.