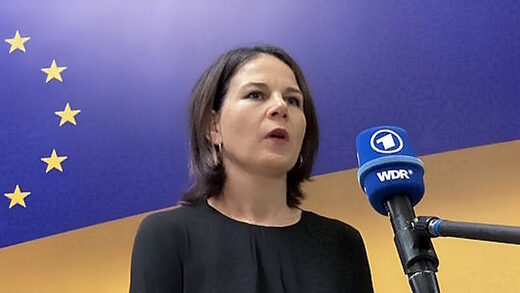 "Every meter" Kiev's forces seize from Russian troops is "paving" Ukraine's way into the bloc, Germany's foreign minister has said
Ukraine's future "lies in" the European Union, German Foreign Minister Annalena Baerbock said on Monday, adding that the bloc would soon incorporate regions that had joined Russia in 2022 but are still claimed by Kiev.
"[The EU] will soon stretch from Lisbon to Lugansk," Baerbock told journalists on the sidelines of the EU foreign ministers' meeting in the Ukrainian capital.
Lugansk is the capital of the Lugansk People's Republic - one of the two former eastern Ukrainian regions that declared independence from Kiev in 2014 in the wake of the Western-backed Maidan coup in Kiev. Russia recognized its independence in February 2022, just days before the start of its military campaign in Ukraine. In autumn 2022, the Lugansk People's Republic joined Russia, together with three other former Ukrainian territories following a series of referendums.