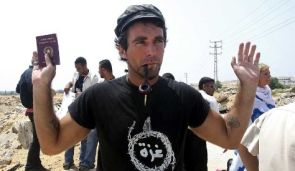 Two suspects have reportedly been arrested in the alleged kidnapping and subsequent murder of Vittorio Arrigoni, an activist in the International Solidarity Movement; Arrigoni was hanged in an Islamist militant's home.
The body of an Italian pro-Palestinian activist was found hanging in the home of a Palestinian militant in the Gaza Strip early Friday, hours after he was reportedly kidnapped.
Hamas officials reported that the body of Vittorio Arrigoni, 36, was discovered in the home of a member of the Monotheism and Holy War group that claimed responsibility for the abduction in a video released Thursday.