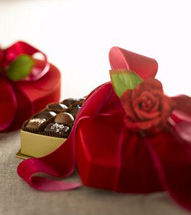 When push comes to shove, it looks like it's going to take more than a "nudge" for people to change their bad habits. So says the United Kingdom's House of Lords Science and Technology Sub-Committee. Today it
issued a report
on behavioral change policy that finds "nudges" and similar behavior interventions are ineffective in influencing behavioral changes when used in isolation.
Everyone has been nudged before - usually without them even knowing it. Take the chocolates conveniently placed in the checkout line, for example. A nudge is any action that seeks to change people's behavior by altering the environment or context of their decisions. A more healthy nudge might be to make fruit the default side order - rather than French fries - or to make stairs more prominent and install fewer elevators.
Lawmakers have taken an interest in nudges because of their nonregulatory nature and supposed cost-effectiveness. The U.K. government is keen to address societal issues such as obesity and carbon emissions by finding ways to change behavior without using regulation. But the Science and Technology Sub-Committee's report finds that a mixture of interventions is required, including regulation and taxation.
"We hope we will persuade the U.K. government that these interventions are valuable as part of an armory to persuade people to change behavior," says committee chair Julia Neuberger.