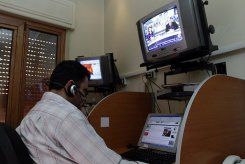 Regimes that choke off citizens' access to the Internet to try to quash pro-democracy movements in the Arab world are running scared and fighting a losing battle, a US diplomat said Wednesday.
"These are the acts of governments that fear their own people,"
Assistant Secretary of State for Human Rights Michael Posner said at a forum that looked at the key role new technologies have played in the drive for democracy in the Arab world.
"In cracking down on the Internet, they expose their own lack of legitimacy," Posner said, using language similar to that used in recent days by the White House and Secretary of State Hillary Clinton to describe President Bashar al-Assad of Syria.
Syrian security forces have cracked down violently on pro-democracy demonstrators, killing more than 1,300 civilians, activists have said on their Facebook page, which is one of the pro-democracy movement's main links to the outside world.