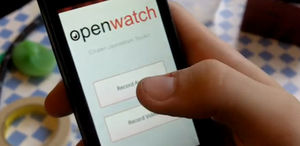 Something like OpenWatch could help solve a major problem for investigative reporting in an age when newsrooms are shrinking
After the recent Vancouver riots, it became clear that the world is surveiling itself at an unprecedented scale. Angry citizens gave police
one million photos and 1,000 hours of video footage
to help them track down the rioters. If we aren't living in a surveillance state run by the government, we're certainly conducting a huge surveillance experiment on each other.
Which is what makes two new apps,
CopRecorder
and OpenWatch, and their Web component,
OpenWatch.ne
t, so interesting. They are the brainchildren of Rich Jones, a 23-year-old Boston University graduate who describes himself as "pretty much a hacker to the core." Flush with cash and time from a few successful forays into the app market, nine months ago Jones decided to devote some of his time to developing what he calls "a global participatory counter-surveillance project which uses cellular phones as a way of monitoring authority figures."
CopRecorder can record audio without indicating that it's doing so like the Voice Memos app does. It comes with a built-in uploader to OpenWatch, so that Jones can do "analysis" of the recording and scrub any personally identifying data before posting the audio. He said he receives between 50 and 100 submissions per day, with a really interesting encounter with an authority figure coming in about every day and a half.