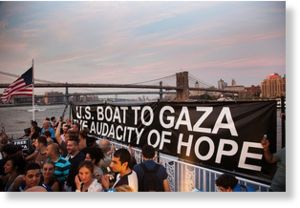 The Obama administration appears to have given a green light to an Israeli attack on an unarmed flotilla carrying peace and human rights activists - including a vessel with 50 Americans on board - bound for the besieged Gaza Strip. At a press conference on June 24, Secretary of State Hillary Clinton
criticized the flotilla
organized by the Free Gaza Campaign by saying it would "provoke actions by entering into Israeli waters and creating a situation in which the Israelis have the right to defend themselves."
Clinton did not explain why a country had "the right to defend themselves" against ships which are clearly no threat. Not only have organizers of the flotilla gone to great steps to ensure are there no weapons on board, the only cargo bound for Gaza on the U.S. ship are letters of solidarity to the Palestinians in that besieged enclave who have suffered under devastating Israeli bombardments, a crippling blockade, and a right-wing Islamist government. Nor did Clinton explain why the State Department suddenly considers the Mediterranean Sea off the coast of the port of Gaza to be "Israeli waters," when the entire international community recognizes Israeli territorial waters as being well to the northeast of the ships' intended route.
The risk of an Israeli attack on the flotilla is real. Israeli commandoes illegally assaulted a similar flotilla in international waters on May 31 of last year, killing nine people on board one of the vessels, including Furkan Dogan, a 19-year old U.S. citizen. Scores of others, including a number of Americans, were brutally beaten and more than a dozen others were shot but survived their wounds. According to a
UN investigation
, based on eyewitness testimony and analysis by a forensic pathologist and ballistic expert, Dogan was initially shot while filming the assault and then murdered while lying face down with a bullet shot at close range in the back of the head. The United States was the only one of the 47 members of the UN Human Rights Council to
vote against
the adoption of the report. The Obama administration never filed a complaint with the Israeli government, demonstrating its willingness to allow the armed forces of U.S. allies to murder U.S. citizens on the high seas.
As indicated by Clinton's statement of last week, the administration appears to be willing to let it happen again.