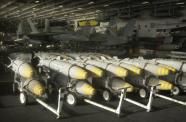 President Barack Obama secretly authorized the sale of 55 powerful bunker-busting bombs to Israel, Newsweek magazine reported Friday.
Israel first asked to buy deep-penetrating GBU-28 bombs in 2005, but were rebuffed by then-president George W. Bush. At the time the Pentagon had frozen joint US-Israeli defense projects, fearful that Israel was transferring advanced military technology to China,
Newsweek
said.
However in 2007 Bush informed then-Israeli prime minister Ehud Olmert that the bombs would be ready for delivery in 2009 or 2010, even though the Israelis wanted them immediately.
Obama released the bombs in 2009, the magazine reports, citing unnamed officials familiar with the still-secret decision.