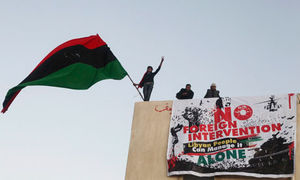 Libyan leader declares ceasefire after UN resolution
British PM vows 'this is not Iraq' but does not rule out ground troops
Rebels jubilant in Benghazi but fear for a divided nation
Muammar Gaddafi has been handed a "non-negotiable ultimatum" by Barack Obama to accept an immediate ceasefire, pull back from Libyan rebel strongholds and permit humanitarian assistance - or face the full onslaught of UN-endorsed air strikes.
In an attempt to reassure Middle East opinion and his own domestic audience, Obama said the US would help to co-ordinate a no-fly-zone, but not lead an operation that will include French, British and Arab jets.
The US president issued his warning after Gaddafi's foreign minister, Moussa Koussa, claimed he would accept a ceasefire in the wake of the UN security council resolution passed late on Thursday night authorising "all necessary measures short of an occupation force" to protect civilians.