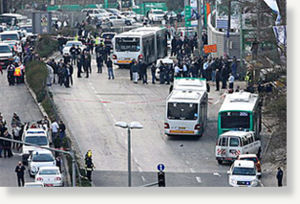 The package bomb that exploded at a busy Jerusalem bus stop Wednesday, killing a 60-year-old British woman and wounding 39, was exceptional in more ways than one. The holy city hasn't had a terrorist attacks since 2008, so the homemade explosive sent a charge through a sprawling metropolis that, in a matter of minutes, became clogged with impromptu checkpoints and rush hour traffic funneling into single lanes to pass them.
But the nature of the strike was exceptional, too. Police say only about four pounds of explosives were tucked into a bag leaning against a telephone pole - suspiciously enough that the owner of a nearby kiosk phoned it in moments before it exploded.
David Amoyal named his stand, "A Blast of a Kiosk" after it was all but destroyed in 1994 by a Palestinian wearing a suicide vest. It's the kind of detonation Israelis learned to expect during the first years of the 21st Century, when suicide attacks became almost routine.