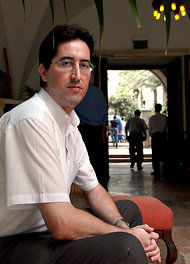 When Shamai K. Leibowitz, an F.B.I. translator, was sentenced to 20 months in prison last year for leaking classified information to a blogger, prosecutors revealed little about the case. They identified the blogger in court papers only as "Recipient A." After Mr. Leibowitz pleaded guilty, even the judge said he did not know exactly what Mr. Leibowitz had disclosed.
"All I know is that it's a serious case," Judge Alexander Williams Jr., of United States District Court in Maryland, said at the sentencing in May 2010. "I don't know what was divulged other than some documents, and how it compromised things, I have no idea."
Now the reason for the extraordinary secrecy surrounding the Obama administration's first prosecution for leaking information to the news media seems clear: Mr. Leibowitz, a contract Hebrew translator, passed on secret transcripts of conversations caught on F.B.I. wiretaps of the Israeli Embassy in Washington. Those overheard by the eavesdroppers included American supporters of Israel and at least one member of Congress, according to the blogger, Richard Silverstein.