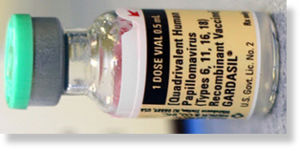 Key California legislators passing an anti-parent bill grabbed campaign financing from the gigantic Merck conglomerate, a CalWatchDog.com investigation revealed. The legislation is AB 499 by Assemblywoman Toni Atkins, D-San Diego. In the bill's language, it "authorizes a minor, who is 12 years of age or older, to consent to medical care related to the prevention of a sexually transmitted disease."
Current law allows such care only with a parent's permission. AB 499 passed both houses of the Legislature and awaits a decision by Gov. Jerry Brown.
AB 499 commonly is called the "Gardasil Bill" because the major drug to be administered to 12-year-old girls - without their parents' consent - is Gardasil, manufactured by Merck. According to Merck's
Gardasil Web site
:
GARDASIL is the only human papillomavirus (HPV) vaccine that helps protect against 4 types of HPV. In girls and young women ages 9 to 26, GARDASIL helps protect against 2 types of HPV that cause about 75% of cervical cancer cases, and 2 more types that cause 90% of genital warts cases. In boys and young men ages 9 to 26, GARDASIL helps protect against 90% of genital warts cases.