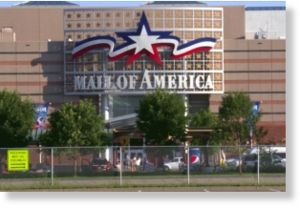 Visitors who have done nothing wrong are winding up identified in counterterrorism reports
Bloomington, Minnesota - On May 1, 2008, at 4:59 p.m., Brad Kleinerman entered the spooky world of homeland security.
As he shopped for a children's watch inside the sprawling Mall of America, two security guards approached and began questioning him. Although he was not accused of wrongdoing, the guards filed a confidential report about Kleinerman that was forwarded to local police.
The reason: Guards thought he might pose a threat because he had been looking at them in a suspicious way.
Najam Qureshi, owner of a kiosk that sold items from his native Pakistan, also had his own experience with authorities after his father left a cellphone on a table in the food court.
The consequence: An FBI agent showed up at the family's home, asking if they knew anyone who might want to hurt the United States.
Mall of America officials say their security unit stops and questions on average up to 1,200 people each year. With 4.2 million square feet under one roof, the two-decade-old mall is a monument to suburban shopping and entertainment. Nearly 100,000 people from around the world pass through on a given day.