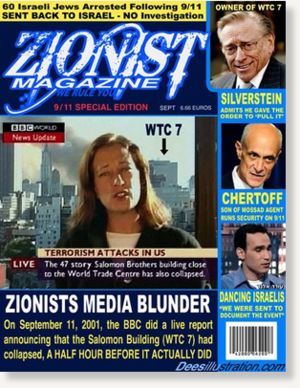 First, consider the following excerpts from an article by former member of the Office of Naval Intelligence, Wayne
Madsen
which recently appeared at
Opinion Maker
. The title of the article is
Puppet Masters: British Intelligence Reports: Mossad ran 9/11 Arab "hijacker" terrorist operation
.
British intelligence reported in February 2002 that the Israeli Mossad ran the Arab hijacker cells that were later blamed by the US government's 9/11 Commission for carrying out the aerial attacks on the World Trade Center and Pentagon. WMR (
Wayne Madsen Reports
) has received details of the British intelligence report which was suppressed by the government of then-Prime Minister Tony Blair. The contents of this report are as follows:
A Mossad unit consisting of six Egyptian- and Yemeni-born Jews infiltrated "al Qaeda' cells in Hamburg (the Atta-Mamoun Darkanzali cell), south Florida, and Sharjah in the United Arab Emirates in the months before 9/11.
The Mossad not only infiltrated cells but began to run them and give them specific orders that would eventually culminate in their being on board four regularly-scheduled flights originating in Boston, Washington Dulles, and Newark, New Jersey on 9/11.