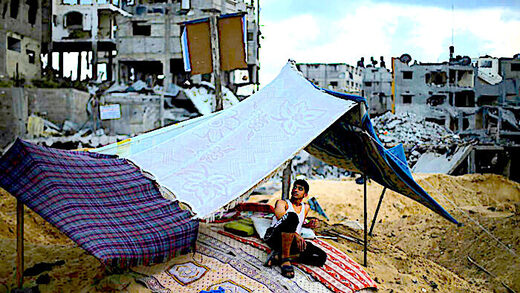 Last week, Palestinians and Israelis agreed to yet another ceasefire of hostilities in the Gaza Strip.
Palestinians appeared triumphant. After more than 2,100 mostly-civilian deaths, tens of thousands injured or displaced and chunks of Gaza buried under rubble,
they managed to get Israel to serve up some
"concessions."
Israelis seemed decidedly glum.
Only 69 died, but there was no decisive "victory" either,
which always rankles with the IDF and makes politicians drop in the polls.
There was more bad news for Israel.
The IDF launched a major air and ground military offensives and did not come close to destroying its adversaries' leadership, organization, military capabilities and alliances.
During the seven weeks of brutal attacks against the densely-populated civilian centers,
Israel managed to put the Palestinian issue back on the Arab map, draw unprecedented global censure, and give wings to the Boycott, Divestment & Sanctions (BDS) campaign to undermine Israel's economy. Israel also managed to unify Palestinian political parties across the board -
a minor miracle - and make regional heroes out of the "Palestinian Resistance." With every lash of Israel's whip, Palestinians found new determination to break the siege of Gaza and end Israel's occupation.
That's all well and good, but here's what needs to be clear:
Palestinians did not achieve their goals either.